Your Business Quick Tip Newsletter
Vol 21 No #208 – 10th February 2022
---
The following two tips focus on using colour to save you time in both MS Office and Google. You're sure to love these tips.
Please, if you do like them – your greatest compliment would be to refer your colleagues and friends to subscribe to the newsletter.
---
EMAIL
Problem: You get loads of emails but don't want to use rules to sort them. You need certain emails to stand out immediately.
Solution: Automatically Colouring Your Emails (and Calendar and Tasks)!
Outlook: A fabulous, but hidden feature is Conditional Formatting. You set a condition to look for in example an email address or word. Next you specify the colour, font, font size and bold or italics for the email to automatically change into as it arrives and the condition is met. As you can see from the image, I have every email that arrives with the word training in it – turning green, bold, and with a larger typeface than the others
Outlook 2010-2022.  View Ribbon  >Settings > select Conditional Formatting. A window opens and you have three steps.
Give it a name.
State the condition you want met.
Select your font, colour, size
Even better, when you set one up, it will work retroactively on emails already in your inbox!!!
Calendar & Tasks – If you would like to use conditional formatting on these items, the result and the action steps are the same for email. You simply have to complete the steps for each of the Outlook programs (it doesn't move across)
Gmail: I'm sorry to say there are three steps to accomplish this feat in Gmail (and they're a bit advanced):
Create a label (the equivalent of folders) from the top navigation bar across Gmail
Click the three dots on the label and assign it a colour
Create a filter that sets the condition to look for in an email to apply to the label. When the new email arrives it will have the label name and colour preceding the subject line
Below – Gmail example of coloured labels

---
SPREADSHEETS
Problem: You have a large spreadsheet of information and you need to find specific data quickly. You need patterns of data to stand out or certain information highlighted in some manner. For example, certain post codes. Who has done what training. The top 10% of sales. All the sales by one person. Amounts over or under a certain amount or even a coloured view based on range of values (top, middle, bottom)?
Excel Solution: You can with (low and behold) Conditional Formatting.
Conditional Formatting in Excel Home RibbonxtagendzStyles Menu> Conditional Formatting (then follow the drop-down menu)
Bonus: Here's a How-To Video from my Quick Tip Boot Camp Excel – Lesson 13 https://youtu.be/AH9KyVJtX_A The video is 1 minute 40 seconds long.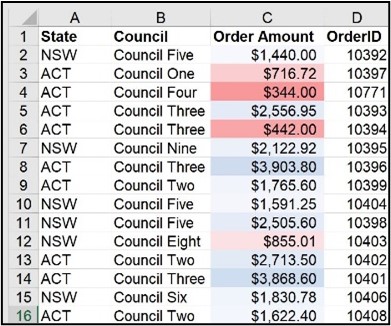 Google Sheets: Use advanced conditional formatting
On your computer, open a spreadsheet in Google Sheets.
Select the cells you want to format.
Click Format Conditional formatting.
Under the "Format cells if" drop-down menu, click Custom formula is. …
Click Value or formula and add the formula and rules.
Click Done.
---
Did you like these tips? If yes, please consider our Fabulous Bespoke Training. The time and stress saved will be business changing!
Microsoft Office Mastery – How to get more done in less time with Intermediate and Advanced Tips and Tricks covering your choice of modules: Word, Excel. PowerPoint. Outlook
Art of Persuasion – Effective Communication Secrets, Tips, Tricks and How-to's. We'll cover crafting stories, persuasive discussions and crafting fabulous presentations and documents
Excel Not Just Numbers. Magical tips, tricks and how-to's working with lists and databases in Excel. Outcome is a massive amount of time saved working in Excel and creating stunning lists to use for marketing campaigns if desired.
Conquer Your Email Overload – Outlook or Gmail
All these new training options are 100% customizable:
Duration (One hour through one day)
Content specific to your team, software and needs (for example sales teams or Personal Assistants)
Delivery – in-person or online.
Contact Debbie now for a quote and full content debbie@debbiespeaks.com