Your Business Quick Tip Newsletter
Vol 21 No #209 – 6th April 2022
---
First up, a lovely Gmail desktop gem with Google Contacts
I'm not sure if this feature has existed for a while or if it is a new enhancement. For the first time while scrolling through emails in Gmail with the Contact icon clicked open, I discovered the following:
The contact pane will show you all the 'email addresses' involved in the email thread – whether they are contacts or not
If you click on any of the email addresses, it will then show you (still in the contact pane) their contact details
The recent emails (called interactions – such as meetings and appointments) you've had with them –  are all clickable to open and view
The documents you share
I've illustrated it in the two images below, the first shows the contact icon you find on the right in Gmail, clicked open.
The second image shows the recent emails I have from MyVet – after clicking on it. The Email can be opened by clicking.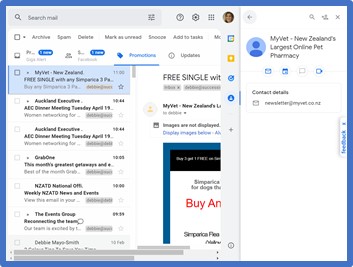 ---
An Incredible Microsoft Office Timesaver
How many times a day; week; month; year do you need to email the file you're working on as an attachment or PDF? Be it an Excel file, Word doc or PowerPoint presentation.
I'm sure your response is PLENTY!!!!! To say the least.
There's a fabulous shortcut available that, with a single click – attaches that item as a file or as a pdf to an email.
How you say?
Like this is my response!!!!
Prior To The Latest Upgrade: At the top of your Ribbon (in any of the MS programs) is a little group of icons. This is called your Quick Access Toolbar. See the image below
Latest Upgrade: You won't see the Toolbar, it's been hidden. Go to the end of any Ribbon, Click the little down arrow and select Show Quick Access Toolbar
This little set of Quick Access icons are clickable and can any function/feature you use regularly can be added to it with a right click or a further drop down menu
To get to the two shortcuts I mentioned (attach to an email; convert to PDF and attach to an email) here are the steps:
Click the down arrow
Select More Commands
Select from the top Drop-Down Box All Commands (it will have Popular Commands showing)
Scroll down to the E's and click the Add button for the email and email pdf button (as shown below)
There you go. Next time you're working on a doc and want to transform it to a pdf and email it – click the little icon and it will be done instantaneously for you.
You will need to repeat this step for the different Microsoft programs.
---
If you like either of these tips – please:
Call on +64 27 575 5359, or email me at debbie@successis.co.nz for a lovely quote on training or conference presentations 
Refer your friends to the quick tip newsletter https://debbiespeaks.com/newsletter/newsletter-sign-up/