Your Business Quick Tip Newsletter
Vol 21 No #210 – 12th April 2022
---
Less IS NOT Better
In the last two upgrades of Microsoft, they've been( I guess you'd call it ) simplifying your view. In doing so, they have reduced the size of the Ribbons they show you in all the programs.
In this instance, less is NOT BETTER by any means. It hides too many features from you. And even worse – it doesn't show you how to get your full ribbon back.
Look at these two examples.
Outlook

Word
You can't see any functions or even the Quick Access Toolbar I wrote about in the last newsletter (See it here)
To get your full featured ribbons back:
Quickly double click the word Home and the ribbon will open. Click the down arrow at the very end of the ribbon and select Always Show Ribbon. Also click Show Quick Access Toolbar. The image below is what my screen shows after these two actions. What a difference! If you didn't read the last issue about the Quick Access toolbar – do so now here
---
Spreadsheet Notes
If you work on a spreadsheet with a group – or even just other one person – you might want to leave them a note – but you don't want to actually type it into a cell. You can create a clickable note in Excel or Google Sheets.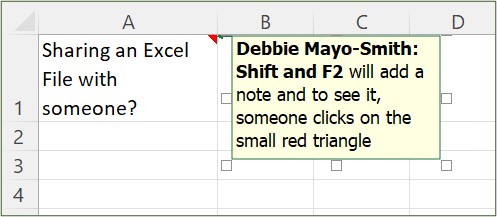 Excel – with a cell selected, hit Shift and F2. Write your note and it will leave a little red triangle in the right corner of the cell.
Google Sheets calls it a comment and you simply hit Control and Alt and M. It will leave a little yellow triangle in the right corner of the cell
---
If you like either of these tips – please:
Call on +64 27 575 5359, or email me at debbie@successis.co.nz for a lovely quote on training or conference presentations 
Refer your friends to the quick tip newsletter https://debbiespeaks.com/newsletter/newsletter-sign-up/